When building out a web solution for small businesses, the
Return On Investment
is the primary metric for planning. Typically, this is very difficult to measure, as there can be
many hidden costs
in a software development project. Even if you have in-house programmers, they will often grossly misjudge the time required to complete a task, causing any ROI comparisons to be of questionable value.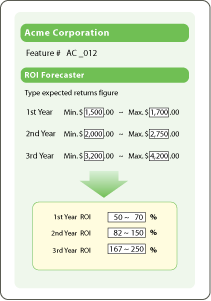 When planning with bluejava, you are provided an interface to plan features, and given
hard quotes
for each feature. This allows you to precisely predict and control your budget, with specific features
guaranteed of delivery
- and
guaranteed on schedule
. This frees you to
focus
on your business needs, what a feature means to your
bottom line
, and how to market your new product.